Arlene Foster: Dr Jessen 'honestly believed' extra-marital affair claim
TV presenter Dr Christian Jessen "honestly believed" DUP leader Arlene Foster was having an extra-marital affair when he tweeted an unfounded rumour about her, a court has heard.
On 23 December 2019, he published the allegation to his 300,000-plus followers.
The tweet remained online until Dr Jessen deleted it on 7 January 2020.
Dr Jessen told Belfast's High Court he had not wished to cause Mrs Foster "any distress".
Mrs Foster, a member of the Northern Ireland Assembly for Fermanagh and South Tyrone and the first minister of Northern Ireland, is suing Dr Jessen for defamation.
Dr Jessen is best known for presenting Channel Four programme Embarrassing Bodies.
'Too prolific' to be untrue
Appearing in court on Friday to give evidence for more than three hours, Dr Jessen said at the time he posted his tweet, there was "extensive online comment" about the false rumour.
"It wasn't just in one or two places, there were many hundreds of tweets going back quite some time about this particular rumour," he said.
"It seemed too prolifically talked about to have been conjured from thin air in my view. That's the only basis for my honest belief, comments on Twitter and various articles around at the time."
Mrs Foster's lawyer, David Ringland QC, asked Dr Jessen if he believed he had been "quite entitled to tweet this disgusting tweet about the first minister of Northern Ireland on the basis of unsubstantiated rumours you read online?"
Dr Jessen said: "Given the extent of rumours, and given the DUP stance on things like equal marriage and abortion, I felt strongly that if there was a possibility these were true, this is a public figure who is answerable to her public and if there is any truth to them, these need to be called out."
He added that he "wanted to make sure if there was truth to it, any hypocrisy that was behind it was noted".
Mrs Foster's barrister described the tweet as "grossly offensive, grossly insulting and grossly defamatory" before asking Dr Jessen: "Do you understand how shatteringly damaging it is for a happily married woman to be accused of adultery?"
The doctor replied: "I'm sure it was unpleasant and I would not wish to cause her any distress."
'Scrolled past' lawyer's tweet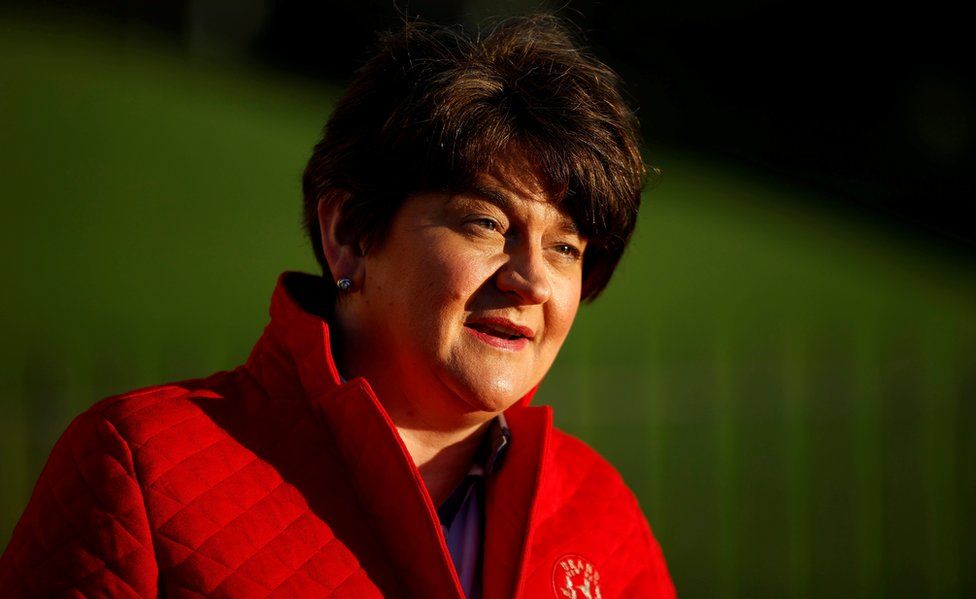 The court was also told that Dr Jessen had not initially engaged with the legal case over the past 12 months because he believed "most things including court proceedings" had been stalled as a result of the coronavirus pandemic.
He said he had taken "some considerable time off" work because of ill health, and said he rarely watched TV or read newspapers.
The former Harley Street doctor was asked why he had not heeded a tweet from Mrs Foster's solicitor, Paul Tweed, on 24 December 2019, instructing him to remove the tweet or face legal action.
Dr Jessen said he read the tweet, but did not realise he was a lawyer and that he would have been "scrolling through many replies".
"I never imagined and still find it hard to imagine a lawyer would tweet a statement to me over Twitter on Christmas Eve – the likelihood of me not taking it seriously which I didn't – is very high," he told the court.
He received a letter on 2 January 2020 from Mrs Foster's lawyers instructing him to delete the tweet, but he did not remove the post until 7 January.
Dr Jessen told the court he had taken legal advice from his own lawyers before deleting the tweet as soon as he was able.
'Not coping with life'
At one point, Dr Jessen became emotional during the course of his cross-examination.
He told the court he had taken the decision to stop working in early January 2020 in a bid to "get back on track with my health".
He said he had decided to return home and live with his parents in March 2020, as he "wasn't coping with life very well" and needed family support.
Dr Jessen added that moving from his own address would have led to a "delay" in responding to correspondence he was receiving from Mrs Foster's legal representatives.
He also said he had not visited his London apartment since March 2020 until returning in "the last week or so", claiming he had not received legal documents that were delivered by a server to his concierge in February 2020.
The judge, Mr Justice Gerry McAlinden, asked was it possible that with Dr Jessen's mental health issues at the time, had he buried his head "in the sand and ignored all this stuff?"
Dr Jessen replied he did not believe so, but could not provide an explanation to the court.
'Being pithy'
He was also asked why he had responded to Mr Tweed's initial tweet asking him to remove the post, with a reply on Christmas Day stating: "Lol" (laugh out loud).
The judge put it to Dr Jessen that it looked like he was "getting enjoyment from the responses after Mr Tweed's intervention".
Dr Jessen said Twitter could be addictive, but that he believed it justified his view that he thought Mr Tweed's instruction was "a joke".
"Twitter can be a light and frothy thing at many times… I want Twitter to be amusing at times, pithy at other times – we don't always get that right."
Mrs Foster's barrister suggested to Dr Jessen: "Your tweet accusing the first minister of being a hypocrite, homophobic and adulterous – that's light and frothy?"
The doctor replied: "I'd say that's being pithy."
First Minister Arlene Foster was not in court on Friday, as she had previously given evidence about how Dr Jessen's tweet had affected her and her family.
The judge said the case would continue next week.
www.bbc.co.uk
Short URL: http://www.choicetv.org.uk/?p=6791