Frank Lampard scores 200th Chelsea goal in win over West Ham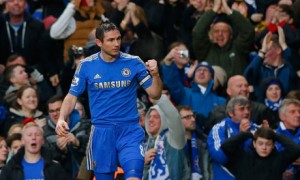 The script felt prescribed. Frank Lampard had been twitching nervously on the brink of a major landmark for a month, the flurry of goals that had propelled Chelsea through the winter suddenly choked, when Eden Hazard clipped over a mouth-watering centre and, at last, the veteran rose to nod in No 200. There was a quick glance back over his shoulder at the linesman on the far side, the lack of a flag prompting a flash of relief, before the realisation dawned his timing was finally in.
The visiting support cursed in unison but there was something appropriate that the double century of Chelsea goals should be notched up against the club who have loved to loathe Lampard ever since that acrimonious move down the District Line almost 12 years ago. It will not have been lost on the veteran midfielder, who jogged across in front of the West Ham support to celebrate with his substitute and captain John Terry on the touchline. The 34-year-old is a phenomenon, his tally remarkable for a midfielder who had arrived with little goalscoring pedigree of note. Bobby Tambling's club record of 202 will surely be eclipsed in the logjam of fixtures to come this term.
The goal, eased beyond an exposed Jussi Jaaskelainen, paved the way for a success here that has re-established Chelsea in third place above Tottenham Hotspur and, even more critically, kept fifth-placed Arsenal five points adrift. So much of this team's recent campaign has been dominated by cup competitions that Rafael Benítez's side deserved credit for refocusing on the primary task at hand – qualification for the Champions League – but, in truth, this was comfortable. With Juan Mata and Eden Hazard irrepressible, Chelsea purred at times. The Belgian's own reward, rasped into the corner after he had eased space from Winston Reid early in the second half, guaranteed a victory that might have been far more resounding had Jaaskelainen not excelled.
Profligacy had also played its part. Demba Ba, prolific to the tune of seven goals in 12 league games during in a brief spell as a West Ham player two seasons ago, should have opened the scoring in the opening attack having been liberated by Lampard's clever pass, only for indecision to set in as he bore down on goal with his attempt eventually skewed horribly wide. The Senegalese, preferred from the start ahead of Fernando Torres, had less time to think when twice set free by Victor Moses just before the break but Jaaskelainen reacted smartly to save each attempt.
Ba's relatively shy goal return since his move from Newcastle in January, certainly in the context of his form over the first half of the campaign, has gone forgotten at times given Torres's toils, yet others in this Chelsea team have taken the burden from the forward-line. Mata, Hazard and Moses were in scintillating form, West Ham creaking to contain the torrent of attacks. Jaaskelainen's one-handed save to deny Hazard a second late on defied belief, but it is 12 years since United prevailed in this arena and, despite having inflicted the first defeat of Benítez's interim stewardship at Upton Park back in November, there was never much chance of a repeat across the capital.
Mohamed Diamé had inspired Sam Allardyce's team that day and, while he stamped authority across midfield and Matt Jarvis buzzed down the left flank, West Ham still retained some hope. But Andy Carroll saw an equaliser disallowed for a push on David Luiz and Diamé did not reappear for the second period, with West Ham wilting in his absence. The substitute Carlton Cole was denied by Petr Cech and that was as close as they came.
It remains to be seen what action, if any, is taken after objects were flung at Terry from the visiting support as he warmed up on the touch-line in front of that corner of the Shed End, the former England captain having eye-balled the crowd before bending over to stretch as the stewards moved in. He had celebrated Lampard's opener with gusto, enflaming the fans' ire in the process, but No 200 was a goal worth acclaiming.
Short URL: http://www.choicetv.org.uk/?p=1477