Google unveils Android 'M' software with focus on security and battery life
Google's next version of Android software for smartphones, tablets, watches and TVs is called "M" and will aim to beef up security while conserving battery life, the tech company announced on Thursday at I/O, its annual developer conference in San Francisco.
With Android M, Google is attempting to spread its mobile operating system far and wide, building on previous initiatives with last year's Android "Lollipop" and its developing-world focused Android One for low-cost smartphones.
The new version, which will reach Google's own-brand Nexus smartphones and tablets later this year, is focused on battery life, security and privacy.
App that knows what you meant to say
"Machine learning" was the phrase that dominated the conference's opening address, as Google unveiled multiple uses for its ever-smarter algorithms. "Machine learning is what helps us answer the question what does a tree frog look like from millions of users around the world," said Google SVP Sundar Pichai.
Now On Tap, the upgrade to Google Now, will be able to find search strings based on butchered pronunciations, tags it made up itself, and pronouns. The Googlers demonstrated Now On Tap's ability to pull context from applications – in a demo, a user listening to Skrillex said "What's his real name?" and Now On Tap responded with "Sonny John Moore".
Longer-lasting smartphones
Battery life is a primary pain point for smartphone users. Android 5 Lollipop offered around 15% better battery life on the same smartphone over Android 4.4 KitKat, Android 6 M should go one better by improving the operating system's control of background apps.
M promises to stop poorly coded and power-hungry apps from draining the battery unnecessarily, extending standby times and hopefully having a positive impact on real-world usage. The company's Dave Burke said mobile devices lasted up to twice as long on standby with the M's new feature, Doze.
Burke also said the company would be supporting a new USB charger standard USB-C, which will allow you to charge other devices using the phone's battery.
Google's Jen Fitzpatrick presented the company's various low-cost initiatives, including support for phones with dual Sim cards and FM radio, and limited offline versions of YouTube and Maps, including driving directions.
Unlimited Photo Storage
Google's social network, Google+, which was heavily integrated into multiple parts of the Android operating system is also taking a back seat in the next version of Android, but photos are front and center.
Photos will allow users to index and find images of "people, places and things that matter the most in my life", as the company's Anil Sabharwal put it. Sabharwal demonstrated on his own phone, where he was able to type in "snowstorm in Toronto" or the name of his niece and immediately find pics that Photos had tagged automatically – information, he stressed, that was private to the individual user.
Google has broken out its Photos app from Google+, meaning that users no longer need an account with the social network to see, edit and back up photos, now plugging into Google's cloud storage solution, Drive.
Google also rolled out a series of new privacy options, that build on the "AppOpps" framework that was exposed two years ago by third-party developers, but removed in Android 5 Lollipop.
Privacy and security improvements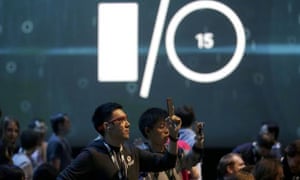 Several Android variants, including the popular Cyanogen OS, include extensive controls over the kinds of personal data apps have access to on a smartphone. Apple's iOS has had similar features for a couple of years, now Google's Android is catching up.
"We're greatly simplifying app permissions," said Google's Dave Burke. "Apps will now ask you for permissions the first time you try to use a feature, instead of asking during app installation." The move catches Google up to iOS.
The system will allow users to deny apps access to location, personal information and data on a case-by-case basis, improving the permissions system beyond an accept-all as it currently stands in older versions of Android.
Google also unveiled improved support for biometric authentication methods, including fingerprints, which until now have relied on third-party manufacturers such as Samsung building their own security systems to support.
The biometric additions open up the pathway to fingerprint- and iris-authenticated payments and other secure login systems.
Google's Android Pay, which like Apple Pay and Samsung Pay, allows users to pay for goods and services contactlessly using their smartphones, will use fingerprint identification.
Contactless payments made via smartphones in the US totaled $3.5bn (£2.3bn) in 2014, according to data from eMarketer. This year that figure is expected to reach $8.95bn, and $27.5bn by 2016.
Beyond Android on smartphones and tablets, Google also emphasised its intentions to be an integral part of the "internet of things". Having bought the smart thermostat and smoke detector company Nest, Google unveiled a dedicated internet of things operating system.
Android Auto could form a strong part of that new ecosystem. The Hyundai Sonata recently became the first car to roll off the production line with Android Auto, allowing drivers to connect to their smartphones and pull Google Maps and other Google apps directly on to their dashboards.
Virtual Reality
Clay Bavor, vice-president of product management, also took the stage to talk about virtual reality. Bavor introduced Expeditions, a new product that will allow teachers in Detroit to take kids of VR field trips to the Great Wall of China or a coral reef. It's a program developed in tandem with teachers.
Bavor held forth on the company's low-fi solutions to VR problems. "If you want to capture something that's truly immersive, there are really only a handful of very custom camera rigs in the world that'll do the job, and even they have their limitations," Bavor said.
He presented a rig with "custom geometry", saying that it could be printed on 3D printers or made out of cardboard and used with off-the-shelf cameras. The plans will be distributed online, and YouTube will be able to host the environments.
Read more:http://www.theguardian.com
Short URL: http://www.choicetv.org.uk/?p=3843