Italian coastguards: military action will not solve Mediterranean migrant crisis
Guardia Costiera officers call for increased focus on saving migrants' lives and more large-scale naval ships to be put under Italian command
The Italian coastguards leading migrant rescue missions in the southern Mediterranean have voiced concern about the EU's migration strategy, arguing that military operations will not stop migration to Europe and calling instead for European navies to prioritise search-and-rescue missions.
Speaking on Monday before EU defence and foreign ministers agreed to launch military operations against Libyan smugglers, coastguard captain Paolo Cafaro said a military campaign would not eradicate the root causes of the Mediterranean crisis. His colleagues Admiral Giovanni Pettorino and Capt Leopoldo Manna called for an increased focus on saving migrants' lives, with Manna urging European navies, including that of Britain, to give him more control over their boats in order to streamline Mediterranean search-and-rescue activities.
All three are senior officers within Italy's Guardia Costiera, a semi-autonomous wing of the Italian navy. Pettorino leads its search-and-rescue division; Cafaro is in charge of the division's planned rescue missions; and Manna heads its emergency response control room, which has ultimate responsibility for managing how coastguard, navy, and merchant vessels of all nationalities respond to migrant SOS calls.
In an interview with the Guardian at the coastguard's headquarters in Rome, Cafaro said: "The problem of migration, of desperate people, will not be solved with these [military] measures. It will assume other forms. They will try to find other ways."
Cafaro admitted it was desirable "to stop all the involvement of criminal organisations in this traffic, all the money that they earn from this traffic, this is [something that is] necessary to destroy. But the problem of migration cannot be solved with measures like these."
Cafaro also questioned whether European navies would be able to target smugglers' boats before they are used for migration missions, due to both the absence of a blessing from Libya's official government and the UN, as well the complexities of the smuggling process. Smuggling boats are often simply fishing boats bought in the days prior to a trip, and kept in civilian harbours until the night of their departure.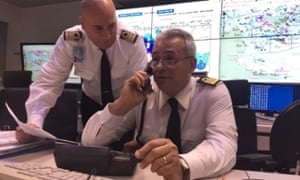 Cafaro said: "I think that different European navy ships at sea can intercept and destroy wooden boats – that I think is very possible and feasible. [But] they can't do that in Libyan territorial waters. They must do that when they are in international waters, after the people on board have been rescued, and then they can do it."
The argument echoes what Libyan smugglers have themselves claimed in interviews with the Guardian: that the destruction of abandoned smuggling ships would stop smugglers from towing them back to shore, thus denying them the chance to replenish the dwindling stocks of suitable fishing boats. The number of wooden fishing boats used by Libyan smugglers since the start of the year has fallen to 67, down from 96 in the same period last year, according to coastguard data. By contrast, the number of rubber dinghies used has increased from 120 to 188, suggesting that fishing boats have become more scarce.
Advertisement
Asked what kind of military action he favoured, Cafaro's colleague Manna simply suggested placing more large-scale naval ships under the Italian coastguard's constant command, to allow for a more streamlined search-and-rescue strategy. Manna expressed gratitude to several European navies, including Britain's, which have provided extra ships to Mediterranean search-and-rescue missions since April. But Manna said these ships were often not being deployed in the most effective places, since he is only allowed to direct them once he receives an emergency call.
In his control room, Manna pointed at a weather map of the Mediterranean, highlighting how Libyan waters were now set to return to calm after a stormy period. He believed a new wave of migrant boats would depart in the coming days, a development he would ideally pre-empt by directing Britain's HMS Bulwark towards the crisis area. Instead, Bulwark, outside of his management remit, is returning to Palermo. Conversely, a German boat that is currently deployed in the right area, will soon have to leave to take on supplies.
Manna said: "I need to have assets already in the area to deploy in the places where [migrants] go. [But] the British ship is going to Palermo. She will remain in Palermo for two, three, four days. The German ship is here – it's not under my orders. It voluntarily stays here, it's a very good help, and I appreciate it so much. But I don't have the ability to decide if she stays or if she goes. At the moment, I would have decided to not keep this vessel here. It is not useful here. I would have said: go inside the harbour, have a rest, pick up food and water, then wait two days."
Read more:http://www.theguardian.com
Short URL: http://www.choicetv.org.uk/?p=3284