The CFDA fashion awards – who won and who went?
The CFDAs are no ordinary trade shindig. The Council of Fashion Designers of America's fashion awards honour the leading lights of the US fashion world. This means that the loos are filled with the likes of Victoria Beckham and Gigi Hadid reapplying their lipstick rather than Jenny from accounts; post-show munchies are less Chicken Cottage and more a slice of pizza in a couture gown (see Juliette Lewis for details); and US Vogue's Hamish Bowles will be waiting in the cab queue – that sort of thing.
Here's a quick guide to who went home with the prizes.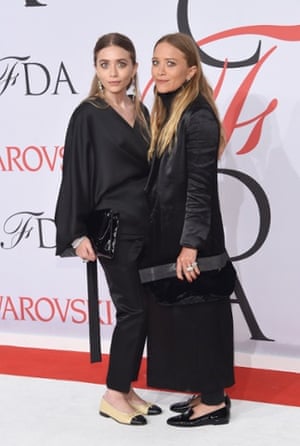 When the Olsen twins started their label in 2006, few would have guessed that it would be so influential. Fast-forward nine years and the uber-luxe minimalist line has won two CFDA gongs and become the go-to label for women fond of triple-ply cashmere and understated Nun chic. On Monday night, the designers accepted their award in middle-partings and flat shoes – proof of their insouciant chicness.
Menswear designer of the year: Tom Ford
The man can pretty much do anything: sexy womenswear, great lighting, carefully styled menswear. Oh, and magnanimity – he acknowledged the work of Peter Hawkings, the label's head of menswear.
Accessories designer of the year: Tabitha Simmons
Simmons – a stylist and former model – is known for wearable shoes with edge. Think flat, pointed ankle boots souped up with leopard print and buckles. The entire fashion world, from Kate Moss to Cara Delevingne, has a pair of Simmons in their closet.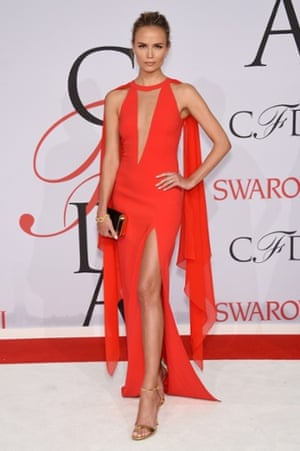 Swarovski award for womenswear: Rosie Assoulin
The designer does theatrical clothes that sing on the red carpet and on Instagram's street-style stars. To wit, Solange in an apple-green button-through evening gown and matching trousers. Point of note: her design calling-card is pockets in eveningwear.
Swarovski award for menswear: Shayne Oliver for Hood by Air
Designer streetwear and large, neat T-shirts, both dissed and beloved by A$AP Rocky. You've seen it – trust us.
Swarovski award for accessory design: Rachel Mansur and Floriana Gavriel for Mansur Gavriel
If you bought a bucket bag in the past year (long strap, gathered fastening) then chances are your bag was influenced by this duo's design. According to Lyst, since the start of 2015, over 50,000 customers have tried to purchase a Mansur Gavriel bucket bag through the site. The demand is so high that, for every one of their bags, 288 people try to buy it.
Geoffrey Beene lifetime achievement award: Betsey Johnson
She celebrated by doing a cartwheel on stage – which pretty much sums up the vibe of her label.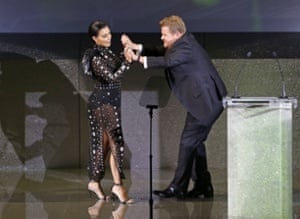 The media award in honour of Eugenia Sheppard: Instagram
Presented by Kim Kardashian. #nosurprisethere
The founder's award in honour of Eleanor Lambert: Millard "Mickey" Drexler, chief executive officer and chairman of the board of J Crew
We're guessing that this is to do with making money, and tons of it. Drexler claimed that hard work was key to his success – even when he had a job folding towels. TOWELS.
The design duo are credited with making this classic label relevant again. Their ethereal gowns are worn by the likes of Alexa Chung and Michelle Williams, and their Rockstud flat sandals – which sell for upwards of £500 – have (unusually) had several seasons of serious success.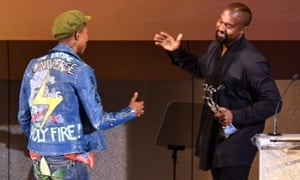 Style icon award: Pharrell Williams
For hats, for shorts on the red carpet, but possibly not for being self-effacing. Attendees were apparently groaning that his acceptance speech went for on 15 minutes while he talked about his style awakenings and love of Rei Kawakubo.
Read more:http://www.theguardian.com
Short URL: http://www.choicetv.org.uk/?p=4119