Meatballs in tomato sauce with cinnamon and cumin (Soutzoukakia)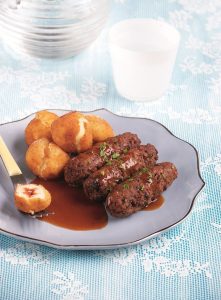 What a dish! It's so hearty and packed with Mediterranean flavors that it is worth all the trouble. You will absolutely love it!
Serves: 4-5 Prep. time: 40′ + 1h waiting Cooks in: 50′ Ready in: 1:30′
Ingredients
For the soutzoukakia
1 kg ground beef
200 ml sweet white wine
1 large red onion, grated
1/3 cup extra-virgin olive oil + a little extra
2 cloves garlic, crushed
4 slices white bread, stale, crusts removed, soaked in sweet wine
1 tsp cumin, ground
1 tsp mixed sweet + hot paprika
2 cups parsley, finely chopped
salt, fleshly ground black pepper
For the sauce
70-80 ml extra-virgin olive oil
1 large red onion, finely chopped
2 cloves garlic, finely chopped
30 ml balsamic vinegar
400 g tomatoes, finely chopped
100 ml sweet white wine
500 ml beef stock
1 pinch cumin
1 pinch sweet paprika
1 pinch hot paprika
For the potato croquettes
400 g boiled potatoes, mashed
2 eggs
1 cup mixed cheese (gruyere + parmesan)
1 pinch nutmeg
1 pinch cumin
1 pinch sweet paprika
1 pinch hot paprika
50 g tomato sauce
flour for dusting
panko breadcrumbs for dusting
olive oil for frying
Method
Step 1
Soak minced meat in sweet wine for 1 hour.
Step 2
In a small non-stick frying pan cook onion in 1 tbsp oil until translucent. Allow to cool.
Step 3
Squeeze excess wine and transfer minced meat in a bowl with cooked onion, oil, drained bread, garlic, spices, parsley, salt and pepper. Knead all ingredients until well combined. Turn your oven on at 200oC. Wet your hands in a little wine and shape oblong meatballs or round (the size doesn't matter, it's just a tradition). Arrange in an oiled baking dish, drizzle with some olive oil and bake for 15 minutes or so, until colored.
Step 4
In the meantime prepare the sauce: In a medium pan heat oil on medium heat and cook onion, garlic and spices. Add vinegar, stirring for 1 minute. Then add remaining ingredients and simmer for 15-20 minutes until reduced in volume. Whizz until smooth and strain through a sieve.
Step 5
Potato croquettes: Mix all ingredients in a bowl until well combined. Refrigerate for 30 minutes or until mixture is firm. Shape small balls, make a pit in the middle and fill in with a little tomato sauce (reserve remaining sauce for serving). Reshape each croquette and dip in flour, egg and breadcrumbs. Fry in hot oil until nicely colored on all sides. Drain on kitchen paper.
Step 6
Serve 3-4 soutzoukakia on each plate along with 3-4 potato croquettes and drizzle with remaining tomato sauce. Sprinkle with a little extra chopped parsley if you wish.
www.olivemagazine.gr
Short URL: https://www.choicetv.org.uk/?p=6962