Anassa Organics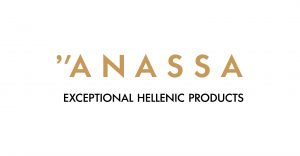 In ancient Greek, Anassa, refers to a queen, a person of high honour, a title bestowed on someone special. According to its founders, Afroditi Florou and Yanna Mattheou,  Anassa Organics represents "the Greek land, one rich in rare, exquisite flavours and aromas, distinctive and ethereal, one fit for a queen. This land blessed with brilliant weather, rich soils and abudant sunlight yields pure, authentic products, unrivalled in taste and fragrance."
Anassa Organics produces a range of premium herbal teas and infusions. The company selects the finest quality of organically farmed Greek products with exceptional taste and fragrance. Anassa`s product portfolio ranges on 2 basic lines. The Classic range, [tin boxes with loose herbs, tea bags and wooden stands] and the Moments range [enveloped tea sachets].  The products come with highly creative contemporary branding and unique, engaging presentation packs that turn preparation of aromatic herbal drinks into a ritual.  In addition to herbs, each Anassa Organics pack contains biodegradable filters with wooden sticks that permit optimal extraction of flavours and aromas during brewing.
Anassa Organics have received a gold award for packaging at the European Design Awards. The Great Taste Awards competition have awarded the company's products with a total of 31 Stars so far.
Out of 10,000 entries into 2016 Great Taste awards Anassa's Lemon Verbena, Greek Mountain Tea and Organic Mint have been named among Britain's Top 50 Foods.  For the selection of herbal produce and product blending, Anassa Organics have worked closely with a group of scientists in the field of Agronomy, Pharmacology, Agricultural and Biotechnology at the Aristotle University of Thessaloniki.  Anassa teas and tisanes can be found at Wholefoods Market in London, as well as at several delicatessen shops, at the Hellenic Duty Free shops and online.
Website: http://www.anassaorganics.com
Facebook: https://www.facebook.com/anassaorganic
Instagram: https://www.instagram.com/anassaorganics
Fill your info to the form below until 25/12/2019 and 15 of you will win a gift box. Good luck everyone!
Short URL: https://www.choicetv.org.uk/?p=6208