Bristol bear with a sore tooth gets dental work done
A bear with toothache caused by an infection has undergone dental surgery.
Neo, who is four, had a root canal procedure to treat an abscess at the base of one of his canine teeth.
His keepers noticed the problem soon after he became active following seven weeks of torpor – a light form of hibernation.
The European brown bear lives with fellow bears Albie, Nila and Gemini at the Wild Place Project, near Bristol.
Vets were able to carry out of a full health check on Neo as he was under general anaesthetic for about three hours.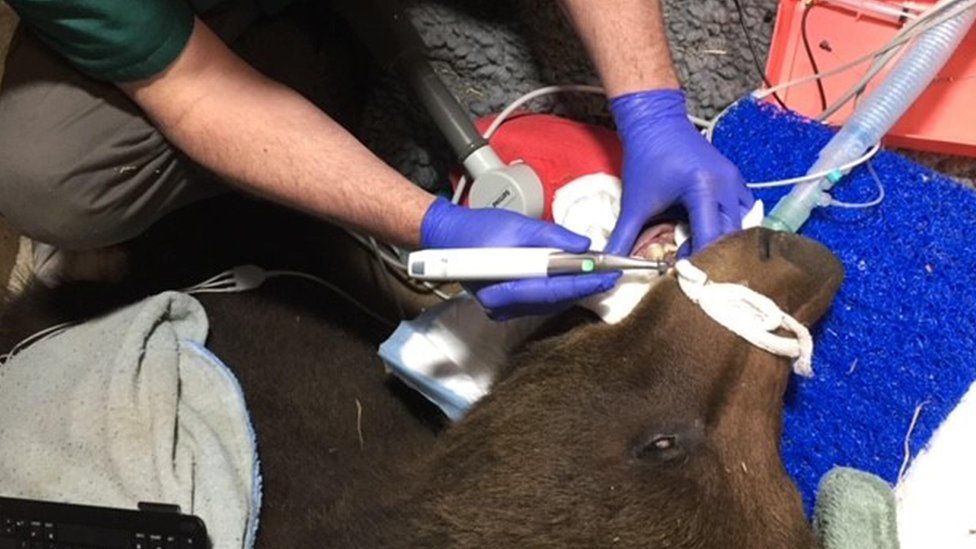 The operation was performed by veterinary dentist Martin Brice, along with Wild Place Project vets Michelle Barrows and Charlotte Day.
Mr Brice said: "I'm used to treating much smaller, domestic patients at my clinic in Bristol and it's always a pleasure to be asked to help out with dental procedures on zoo animals.
"Neo's root canal surgery was essential to treat the infection that caused the abscess.
'A quick recovery'
"It is possible that he might require further treatment in around six months as he's quite a young bear and his teeth may not yet be fully mature."
Ms Barrows, head of veterinary services and conservation medicine at Bristol Zoological Society, said: "As expected, Neo had lost some weight following torpor but is still in good body condition.
"His other results came back all clear and he has made a quick recovery following his dental work."
Although they are classed of being of Least Concern on the IUCN Red List of Threatened Species, populations of wild European brown bears are becoming increasingly scarce.
The species became extinct in Britain about 1000 due to over-hunting.
www.bbc.co.uk
Short URL: https://www.choicetv.org.uk/?p=6788