Wrexham Maelor Hospital: People allowed back after security alert.
People have been allowed back onto a hospital site after a police search for a "suspicious package" ended.
Eyewitnesses said dozens of officers arrived at Wrexham Maelor Hospital and some staff and patients were asked to leave some areas at 13:15 BST.
Both ends of the road leading to the hospital were blocked by police and people were urged not to attend planned appointments.
Betsi Cadwaldr heath board later said access was no longer restricted.
They tweeted that police had completed their search following reports of a suspicious package and apologised for the inconvenience caused.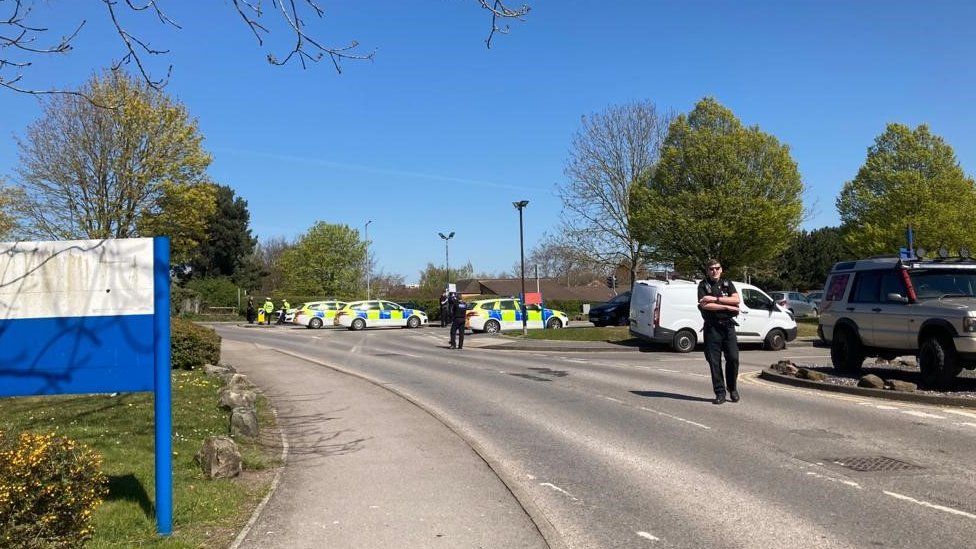 Earlier, one nurse, who did not want to be named, said people were told to leave a building and were later asked to move further back in the car park.
BBC reporter Sarah Easedale, who was at the scene, said one woman, who was supposed to be having a C-section at 14:00, had been admitted inside on a stretcher.
Tonya Hinds, 26, from Caia Park, Wrexham, said she had been in the hospital with her family since 13:30, and had been unable to leave for several hours.
"It's very hectic here, you can tell something's not right," she said.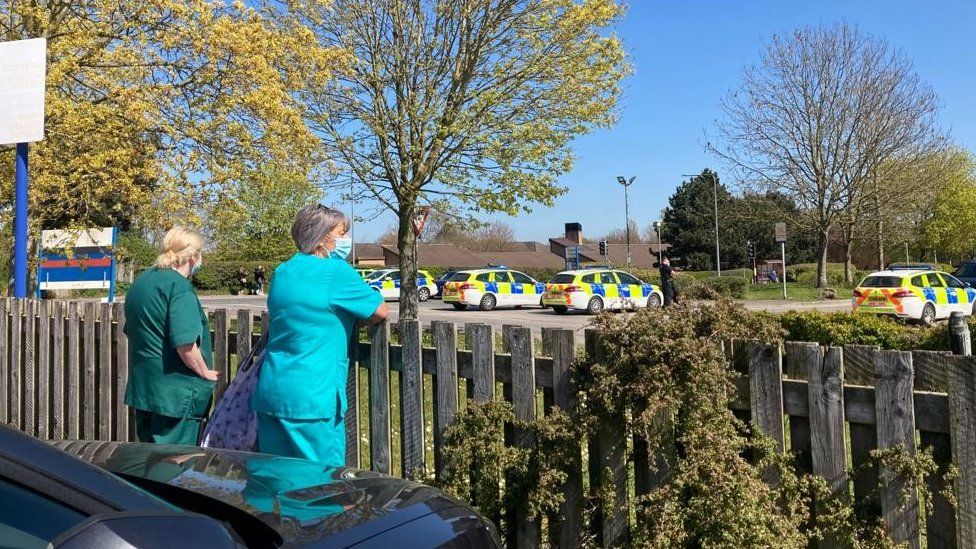 "It is stressful and worrying with two kids under five. The nurses are fabulous helping me keep my girls occupied."
She was kept with her daughters and partner in the main outpatients department as police at the time were not letting anyone in or out.

Eyewitness Stuart Lloyd, 44, said: "I arrived just after 13:30 at the Maelor just to find that police cars were blocking the entrance with flashing lights – unmarked cars and marked cars.
"We've subsequently seen an awful lot of people turn up – more police officers – and they've literally shut all avenues in and they're not letting people out either, although they have allowed a few ambulances to come and go.
"They're not even letting people cross over the road, so at the moment I'm stuck outside the A&E department. There's a couple of other people – a pregnant lady – and we're all just trapped between hedges."
The 800-bed district general hospital was opened by Wales' only British Prime Minister David Lloyd George in 1934.
www.bbc.co.uk
Short URL: https://www.choicetv.org.uk/?p=6695